Farm Share – Community Supported Agriculture – CSA
What is a Customizable CSA Farm Share?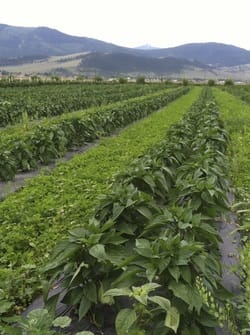 A Customizable CSA Farm Share is a great way to learn the rhythms of seasonal produce and discover new, locally grown vegetables. A Farm Share can be thought of as an 18-week vegetable subscription with the "subscriber" receiving a weekly portion of the harvest. CSA Farm Shares help members learn to plan meals around what is seasonal and fresh rather than what is on the grocery store shelves. CSA's are a great way to support your local farmer and by purchasing the season's bounty up front, CSA members provide the farm with capital at the most crucial part of the season. We will honor this support by providing our CSA members with our finest produce at our best value. The shares will be harvested within 36 hours of delivery to maintain the maximum nutritional value and peak flavor.
The CSA season runs every Wednesday for 18 weeks, from the second week in June through the second week in October.  Each week the shares will be a balance of roots, cooking greens, onions, salad fixings, and seasonal vegetables. The cool weather of spring will grow more greens, brassicas, and root crops. As the summer warms, the share will deliver greater diversity and quantity of produce. Late season crops such as tomatoes, peppers, cherry tomatoes, potatoes, beans, eggplant and onions will be abundant.
We grow over 30 different crops each year and we know you all have your favorites. Our primary goal is not to stretch your tastes but to provide you with those favorites. Harlequin's Customizable CSA is unique because we give our members lots of ways to choose. You can choose what you'd like in your share each week, your share size, how you like to pay and where you pick up.
It's a whole new way to shop for fresh, organic, local vegetables.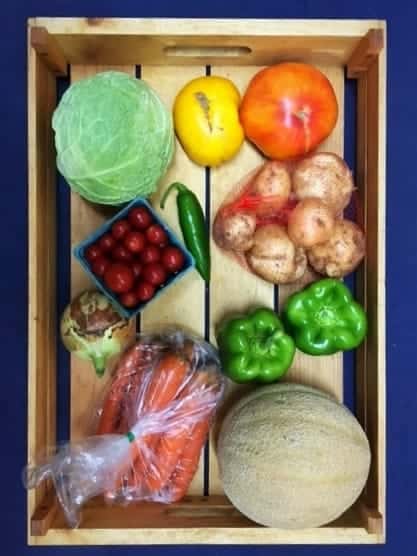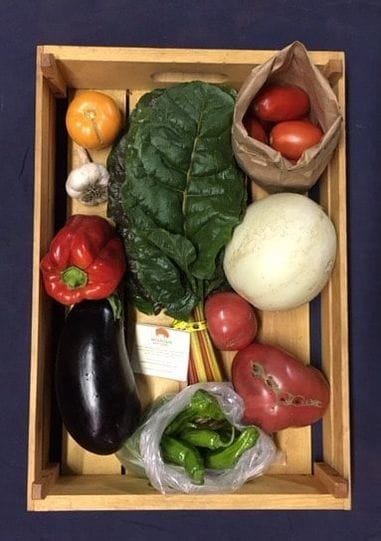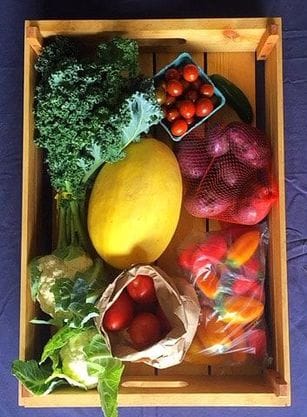 "I love being able to look at the list of what is available and choosing exactly what I want for the coming week. And they have made it very easy to do! Harlequin is the best!"

CSA Member since '14

"The software removed all of the complications and redundancy of the CSA experience, allowing us to tweak and customize our boxes each week so that we were getting exactly what we wanted/needed...It was also great to be able to add on items for storage throughout the season, so we could freeze summer-fresh food for winter use."

CSA Member since '13
CHOOSE Your CSA Share Size
Large or Small
Large Share
The large share will average 8-9 items of produce in each box for a value of $23.50 per week.  This share has the most variety, larger quantities of single items (like salad & tomatoes), and is great for families or
those that love to cook!
Small Share
The small share will average 6-7 items of produce in each share for a value of $18 per week.  This share is great for members who have a smaller household, like to visit the Farmers' Market or grow their own produce.
CHOOSE How You'd Like to Pay
Pay in Full or Pay per Week
Pay in Full
​Large Share – $423
Small Share – $324​
By choosing to purchase the season's bounty in full, CSA members provide the farm with capital at the most crucial part of the season. When members pay in full by March 1st, they will receive an additional $15 of credit that can be used throughout the season to order extra vegetables online or at our stand at the Clark Fork Farmers' Market. We will also throw in a bottle of our Harlequin Hot Sauce in your first CSA share!
With this option members can choose to put their share on hold during the summer with one week's notice and will receive credit for the amount of the share in their account.
Payment can be by check or by credit card.
Pay Per Week
Large Share – $23.50 per week
​Small Share – $18.00 per week
Choosing the pay-per-week option gives members the flexibility to put their account on hold and not be charged. It also allows members to pay for their share in smaller increments. This is a great option for someone who is trying CSA for the first time and learning how to eat seasonally or travels a lot!
Members can hold their subscription or cancel it with one week's notice at any time without being charged. Payments will be automatically withdrawn from their account every Sunday prior to that week's share.
​
​A credit card on file is required. The card will be charged the weekly base amount upon purchase and weekly recurring payment charges will begin June 16th.
CHOOSE Your Pick-up Site
2021 pick-ups will be on WEDNESDAYS
Wednesdays: (Previous times from 2020- subject to change)
Central Missoula Private Residence – (near Central & Hilda) – 4:45-6:30pm
Big Sky Brewery – 5417 Trumpeter Way – 4:00-7:00pm
Record Heaven – 845 Ronan St – 4:30-6:30pm
Greenough Park Pavilion – 1629 Monroe St – 5:00-6:30pm
Western Cider – 501 N California – 4:30-6:30pm
Slant Streets Private Residence – (near 6th and Ivy) – 8:00-9:00pm
Harlequin Produce Warehouse – 72664 Heart View Lane Arlee – 4:00-7:00pm
​Drop times are subject to slight change and private residence addresses will be revealed when sign up is complete. ​
CHOOSE What You Like ​In Your Share
Once you're signed up and the season begins, you will be able to customize your box of veggies online every week!
This is the fifth year we will be offering a fully customizable CSA program servicing the Missoula and Arlee areas. Customizable shares allow members to pick and choose from our bounty of fresh, seasonal, organic vegetables. Each week we'll walk the fields and create a list of produce that is at its peak freshness and ready to be harvested. From that list, we will create a recommended share for you. If you are happy with it, simply leave it as is and pick it up the following week at the drop site.
Customizing is easy! Members can simply login to their account and adjust their share each week by Sunday evening. Veggies can be added, or removed with one-click. Throughout the season we will also offer add-ons; larger quantity of veggies that are great for preserving. In other words, if you don't want any beets, you can replace them with carrots or extra salad mix. If you need extra sweet corn for an upcoming cook-out, order more!
Refer a Friend!
If you refer a friend we will add an additional $5 credit to your account.
Just ask them to enter your first and last name in the "how'd you hear about us question" when they sign up.
If you have any additional questions, please visit our FAQ Page and Policies Page, contact us at csa@harlequinorganicproduce.com, call Bridger at 406-540-3603, or call Kaly at 406-459-7217.